Saturday, June 4, 2022
7:30 PM
The Flying Salvias play Ameri-kinda music, as their repertoire of original and eclectic cover tunes repeatedly strays over the Americana border, blending country, rock, pop, blues, beatnik jazz,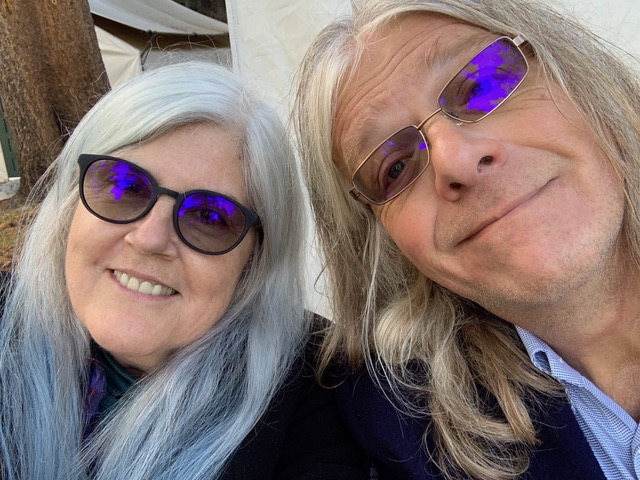 folk, old hippie, and even tango and rhumba. Songwriters Kathleen and Henry Salvia founded the band in 2013, producing 2 CDs with a third in progress.
This will be a wide-ranging show with romance, humor, sadness, joy, and a lot of fun. With Kathleen on vocals and Henry on piano, they have recruited a stellar line-up with experience to match The Flying Salvias' material: David Phillips on pedal steel, David Golia on bass, Philbillie and Travis Jones on guitars, percussionist John Pearson and drummer Ken Owen.
Over the years, Houston Jones, Oakland Interfaith Gospel Choir, Emmylou Harris, Big Lou's Dance Party, Peter Rowan, Joe Cocker, Barbara Morrison, Tom Waits, Denny Laine, and Metallica have all had the pleasure of working with one or more of The Flying Salvias.
Want to find out more? Visit their website, watch a video of them on YouTube, and read an interview with Kathleen and Henry.
Doors open 7:00 PM, shows start promptly, please arrive on time.
Limited number of in-person seating available.
Please note, due to the current COVID-19 environment:
We require all attendees to provide proof of vaccination accompanied by photo ID, and to wear masks while in the hall.
Refreshments will be served before the show and at intermission only and must be consumed outside the hall doors where patrons can remove their masks while eating.
Chairs in our hall are presently set up at Covid distancing, but can be moved closer together for your group, if desired.
*Member Price is for current members only. Membership status will be confirmed and if necessary, the ticket price will be adjusted upon arrival at check-in, before seating.