Saturday, June 26 8:00 PM PDT
Guitarist/harp-guitarist Muriel Anderson takes you on a journey in music and stories, with a backdrop of visuals artfully projected onto a screen behind her. It is a musical journey through space and around the world. Sometimes whimsical, always engaging, it brings together diverse cultures and settings. Truly an experience of all the senses, her multimedia show incorporates aspects of her new project "Acoustic Chef", with visuals by celebrated photo-artist Bryan Allen.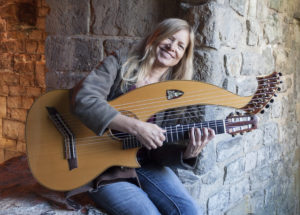 Muriel is the first woman to have won the National Fingerstyle Guitar Championship. Her CD, Nightlight Daylight, was chosen as one of the top 10 CDs of the decade by Guitar Player Magazine, and her "Heartstrings" recording accompanied the astronauts on the space shuttle Discovery. She has performed/recorded with Chet Atkins, Les Paul, Victor Wooten, Tommy Emmanuel and the Nashville Chamber Orchestra. Muriel's obvious joy of music, humor and her facility across the genres of folk, classical, bluegrass, popular and international music is revered by guitarists worldwide. An engaging performer, Muriel's unique approach to the instrument virtually transforms the guitar into a lyrical choir, then a marching band, then a Bluegrass band, one minute launching into a Beatles' tune and the next, a Spanish classic. Her current release "Acoustic Chef" is a CD of music from around the world with a cookbook of recipes and stories to go with each tune. Her new TrueFire channel brings her in-demand teaching to a wider audience. Muriel is host of the renowned Muriel Anderson's ALL STAR GUITAR NIGHT® and founder of the MUSIC FOR LIFE ALLIANCE charity.
Quotes
Just one hell of a great player …a great personality …the way she plays it like we all wish to play.
…Les Paul

Muriel Anderson is a good friend and a great guitarist.
…Chet Atkins