Saturday, September 30, 2023
7:30 PM
The Kathy Kallick Band is based along the west coast, from the San Francisco Bay Area to Anchorage, but their powerful mixture of original and classic music, mirroring their distinctive combination of traditional and contemporary sensibilities, has great appeal everywhere.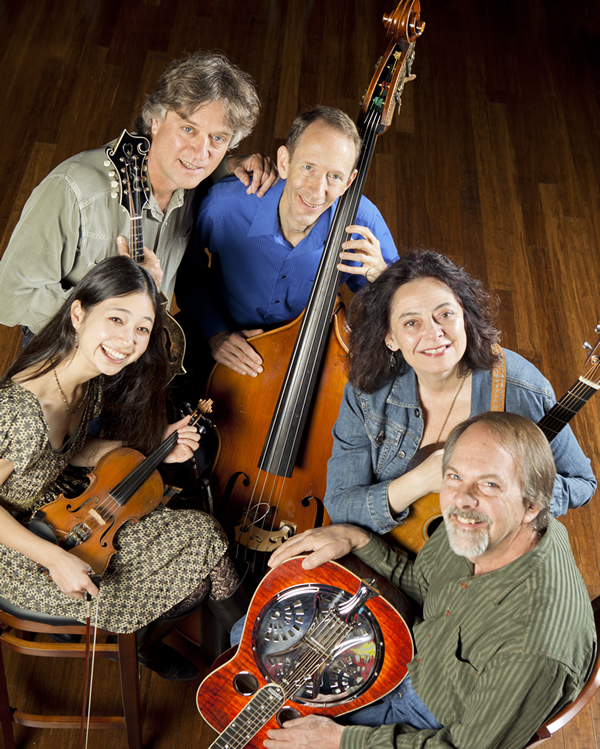 Kathy Kallick's exceptional career includes winning a Grammy and two IBMA Awards, receiving a Lifetime Membership from the California Bluegrass Association, co-founding the internationally-acclaimed Good Ol' Persons, and collaborating with the country's top acoustic musicians – including her mighty band: Annie Staninec (fiddle), Greg Booth (dobro, banjo), Tom Bekeny (mandolin), and Cary Black (acoustic bass), all of whom are also wonderful singers.
Their shows and recordings include powerful and compelling Kathy compositions; dazzling and inventive interpretations of lesser-known instrumentals led by Annie, Greg, and Tom; distinctive covers of a wide range of songs with sources ranging from the Carter Family and Coon Creek Girls to Bill Monroe and Mac Martin to Rose Maddox and Richard Thompson; classics from the Good Ol' Persons and earlier KKB releases; and plenty of new material.
Led by one of the music's extraordinary composers and vocalists, the Kathy Kallick Band has nearly as much fun as the audience when performing, and their presentation — ranging from electrifying to humorous to bittersweet to soulful — is always inclusive and satisfying. And they're truly a band, listening to and sparked by each other, contributing to the songs and the sound as a whole.
Here is the bands' featured video "Foxhounds".

Doors open 7:00 PM, shows start promptly, please arrive on time.
Please note:
Masks are optional. Please be kind to those who choose to continue to wear masks.
Refreshments will be served before the show and through the end of intermission and can be consumed inside the hall. Refreshments are not served after intermission. Please return bottles, cups, and cans to the refreshment window before returning to your seat.
Per our ABC licensing requirements alcohol must be always kept inside the hall. No outside wine and beer are allowed.
We have increased our hall ventilation. Dress warmly on a cold day.
There are still tickets left for sale at the door, starting at 7 PM on Saturday, September 30th.
Online ticket sales for this event are closed.