Chris Webster, Nina Gerber, And Pam Delgado, Jeri Jones (of Blame Sally), with special guests: the Bezhenar sisters from Ukraine
Saturday, December 2, 2023
7:30 PM
This concert is being generously sponsored by an anonymous friend of Pacifica Performances
Duo Quartet – the truth is, this is a band that wasn't supposed happen. It started with four old friends thinking, 'hey, let's do a couple of shows as a double-bill': Nina Gerber & Chris Webster in concert with The Pam & Jeri Show (Pam Delgado and Jeri Jones of Blame Sally). Given that all four women already had stellar reputations in the greater Bay Area, it wasn't hard to book some high profile venues followed by full houses.
At first each performance stuck to the program – one duo followed by the other duo, with a grand finale of all four playing together. The duo part was great, but the quartet thing was downright exciting. Before long the shows featured the four of them playing together, with an occasional duo "breakout" section. Hence the band, and the name "Duo Quartet".
From an audience point of view there is something richly satisfying in experiencing these four women onstage with a dynamic ranging from tender, ethereal songs to raucous barn-burners. Webster and Delgado sing most of the leads – Chris often expertly playing a washboard while Delgado drives the band with her percussion. But if this were a boxing ring you'd see coming in from opposite corners the dueling energy of Jones and Gerber egging each other on with their guitar-Goddestry – whipping the band and the audience into a veritable frenzy.
With a beautiful set of original music mixed with surprisingly original takes on a few choice covers, Duo Quartet brings to the stage a band that is greater than the sum of its already impressive parts.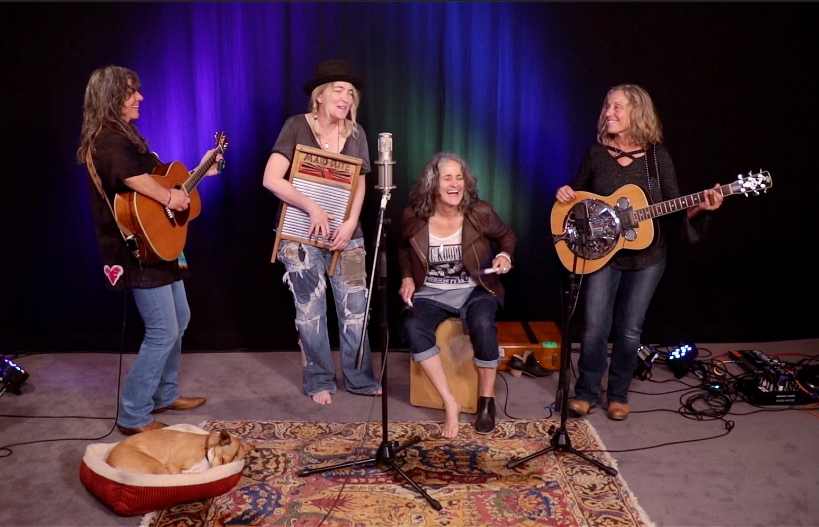 Nina Gerber & Chris Webster haven't rushed into this album thing—it's only after 25 years of playing together that they've released an album of gorgeous duets, Apple Blossom Lane, featuring Chris's bluesy, jazzy, soulful voice and Nina's incomparable guitar accompaniment, always surprising, yet always so exactly right. They take their time with each song, playing with possibilities, exploring depths, arriving at moments of rare beauty and transcendence. If you've ever heard Nina before, you know she always brings out the best in the musicians around her, and Chris's best is spectacularly good—her "magic derives from those ineffable qualities of vocal grain, emotional nuance, timing, and phrasing possessed by the truly great and moving singers of any style," says the Oakland Tribune. This is a pairing well worth the wait!
Listen to Apple Blossom Lane.
Pam Delgado and Jeri Jones of Blame Sally fame return to their original duo format, the Pam & Jeri Show, in a performance ranging from mournful ballads to sweet love songs to blazing acoustic soul. Pam plays percussion and guitar, Jeri plays guitar, bass, dobro, and mandolin, and their powerful voices blend beautifully to create a distinct and compelling sound. Their music has earned a spot in the rotation on San Francisco's KFOG and Starbucks XM Café. Whether they're covering songs by artists like Aretha Franklin and Rickie Lee Jones or playing their own exciting originals, this is a duo that knows how to entertain an audience and put on a satisfying show.