with the Chris Cain Band
Saturday, June 24, 2023
7:30 PM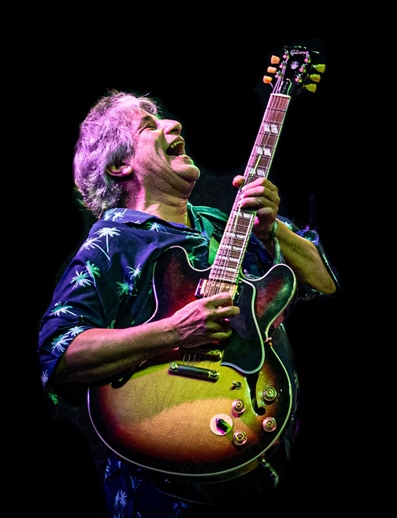 Among the greatest compliments a musician can receive is praise from his fellow artists. With more than three decades of touring and fourteen previous albums, master blues guitarist and vocalist Chris Cain has earned his reputation as a musician's musician. Since his first release in 1987, Cain has created his very own blues sound inspired by his heroes—B.B. King, Albert King, Ray Charles, Albert Collins, Grant Green and Wes Montgomery. His jazz-informed blues guitar playing is fiery, emotional and always unpredictable. His vocals—gruff, lived-in and powerful—add fuel to the fire. His indelible original songs keep one foot in the blues tradition and both eyes on the future. The pure joy Cain brings to his playing and singing is palpable, and draws fans even closer in.
Chris Cain was born in San Jose, California in 1955. His parents were huge music fans and shared their love of blues, jazz and popular music with Chris. His African American father and Greek mother both loved music and had a huge record collection. His father first took Chris to see B.B. King when Chris was three, and, says Cain, "we never missed another show."
For over three decades, Cain has toured all over North America and made repeated trips around the world. He's performed at the Chicago Blues Festival, The Doheny Blues Festival, The Philadelphia Blues Festival, The Waterfront Blues Festival in Portland, and many others. He's played concerts and festivals in Argentina, Uruguay, Italy, Spain, France, Belgium, The Netherlands, Sweden, Norway, Switzerland, Australia, New Zealand, Russia, Ukraine, and more.
There are a lot of videos of Chris on YouTube. This one, titled "Incredible Guitar Solo", was taken when he was invited to play when he was the member of the audience.

Doors open 7:00 PM, shows start promptly, please arrive on time.
Limited number of in-person seating available.
Please note, due to the current COVID-19 environment:
Masks are now optional but highly encouraged. Please be kind to those who choose to continue to wear masks.
Refreshments will be served before the show and through the end of intermission and can be consumed inside the hall. Refreshments are not served after intermission. Please return bottles, cups, and cans to the refreshment window before returning to your seat.
Please note, per our ABC licensing requirements alcohol must be always kept inside the hall, and no outside wine and beer are allowed.
Chairs in our hall are presently set up at Covid distancing, but can be moved closer together for your group, if desired.
We have increased our hall ventilation by keeping the back and front doors open and have added fans to provide multiple air changes per hour in the hall. Dress warmly on a cold day.
*Member Price is for current members only. Membership status will be confirmed and if necessary, the ticket price will be adjusted upon arrival at check-in, before seating.