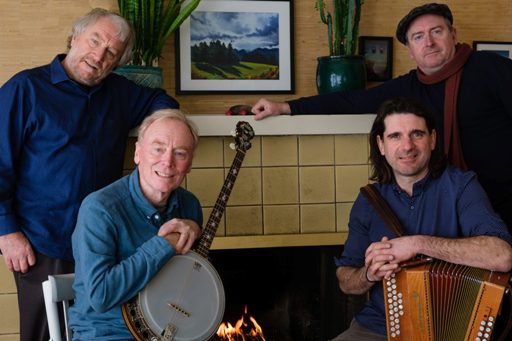 Celebrate being almost to St. Patrick's Day by spending an enchanted evening with the Black Brothers Band, who make every day seem like St. Patrick's Day. Led by the charismatic charmers from Dublin, Shay and Michael Black are the singing siblings from Ireland's foremost family of song, The Black Family, which also includes their sisters Mary and Frances and brother Martin. Shay and Michael play an exciting mix of Dublin street songs, music hall songs and historical ballads.
Singing in close harmony, Michael and Shay draw people in with their energy, wit and superb musicianship. They have a special fondness for chorus songs and love to hear their audience sing. Shay has been teaching song repertoire at The Freight on Monday nights for the past six years.
Shay and Michael grew up in Dublin and both moved to England in the 1970s, eventually re-settling in San Francisco for Michael and Shay in Berkeley. They've recorded one album with their brother Martin as The Black Brothers and three with sisters Mary and Frances as The Black Family. Michael has one self-titled solo album which was produced by guitar virtuoso and fellow Dubliner John Doyle. The Irish Echo, in its review, praised Michael as "a gifted, accomplished, sensitive ballad singer with a discerning taste in songs." Shay has recorded and toured with the illustrious Stan Hugill, shanty group Stormalong John, Irish band Garva, the California Revels, Shira Kammen, and many other local artists. In 2016 he released the album Singer's Request with Celia Ramsay.
The Black Brothers Band also features fiery accordion player Felim Egan originally from Co. Offaly in Ireland, now living in the Bay Area.
Dublin-born Eamonn Flynn plays piano with the band, and he was the keyboardist on the 12 million selling movie soundtrack The Commitments. Now living in San Francisco, his driving piano style adds excitement to the Black Brothers jigs and reels.
With many Irish musical options in the month of March, don't miss The Black Brothers Band. Their joy in performing, their love of a good story, and their charm and wit make an evening spent in their company one to savor.
++++++++++++++++++++++++++++++++++++++++++++++++++++++++