Saturday, November 12, 2022
7:30 PM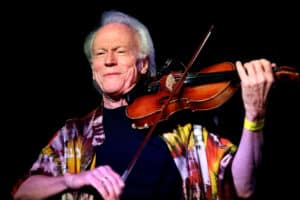 Tom Rigney has been a part of the San Francisco Bay Area roots music scene for more than thirty-five years. In 2000, after fifteen years as the leader and electrifying violinist of The Sundogs, fiddler/composer Tom Rigney stepped out on his own with a hot new band, Flambeau. The repertoire is original, eclectic, passionate, and filled with a musical and emotional intensity that will come as no surprise to followers of Rigney's career.
Tom first rose to prominence in the music scene as the leader/fiddler of the legendary Bluegrass/Western Swing band, Back in the Saddle. He won a Bammie award in 1981 for the band's debut recording. He also wrote their hit song, "Time and Again", which rode the country music charts in the Bay Area for many weeks, no small achievement for an independent release.
After the demise of Back in the Saddle, Tom joined Queen Ida's Bon Temps Zydeco Band and toured the world with the Queen in 1983 and 1984. It was at this time that he developed a love of South Louisiana dance music (Cajun, zydeco, and New Orleans second line grooves). These styles formed a major ingredient in the sound of his next band, The Sundogs.
And now, with the broadening and deepening of his composing skills, and the refinement of his virtuoso technique on the violin, Tom Rigney steps out as the focal point of Flambeau, and is the creator of most of the band's music. The strong Cajun/Zydeco influence is still present, as are the irresistible dance grooves that have been his specialty for twenty years. But there is also a deepening of the emotional range of his music and a concentration on creating moving and memorable melodies in a wide range of styles–he has literally become a "singer" on the violin.
There is no question that Rigney has become one of the premier blues and roots music violinists in the world, and continues to be a prolific composer of powerfully compelling music for the violin, music whose influences come from an extremely wide range of musical styles within the broad boundaries of American Roots Music. As a composer, as a violinist, as a band leader, Tom Rigney is a true American original.
Enjoy a preview video of Tom Rigney & Flambeau while you buy your tickets.
Doors open 7:00 PM, shows start promptly, please arrive on time.
Limited number of in-person seating available.
Please note, due to the current COVID-19 environment:
We require all attendees to wear masks while in the hall.
Refreshments will be served before the show and at intermission only and must be consumed outside the hall doors where patrons can remove their masks while eating.
Chairs in our hall are presently set up at Covid distancing, but can be moved closer together for your group, if desired.
*Member Price is for current members only. Membership status will be confirmed and if necessary, the ticket price will be adjusted upon arrival at check-in, before seating.